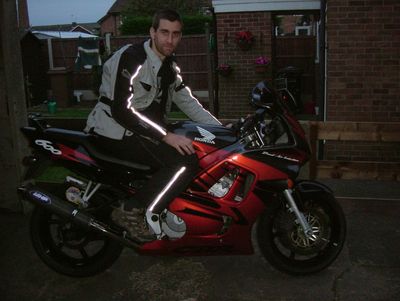 When my car got hit, it wasn't the end of the world because I'd bought a motorbike just a few days before. This is something I've been meaning to do for ages, so I'm glad I've actually got round to it. To give you some sort of idea – I was buying kit around this time last year, having done the CBT the previous September. I took a leisurely approach to doing lessons (and was busy)and finally took the test in July.
I'd originally planned to go for a Suzuki SV650, but it turned out that I'm the wrong size so my knees ended up in an awkward place on the petrol tank. After trying a few different bikes, I settled on this Honda CBR600F. It's nice. It also looks good, unlike a significant proportion of the others I'd seen where the designers had decided that it'd be a good idea to see just how many colour clashes they could fit onto a single bike. Amazingly, this is the only photo I have of it.
Peak power (that's actual power, not power to weight ratio) is more than my car was, which is a bit daunting, but that's a 11,000 rpm and it's pretty sensible at lower revs.
I've ridden a reasonable amount now, but nothing too interesting – mostly just going to work and back because, again, I've been too busy on weekends.
The sad thing is, of course, that it's been locked up for almost two months now. Never mind riding on ice, I just don't want it to go anywhere near the nasty salt that's on the roads.
Roll on spring time!
§ 4 Responses to Bike"